Robert Werry Computer Services Books by Robert Werry Werry Family Tree
THE AUSTRALIAN JOB!
1961- 62 Morris Mini 850 1978 Leyland Mini 1275 LS 1998 Rover Mini Cooper Sportspack 1958 Morris Minor Van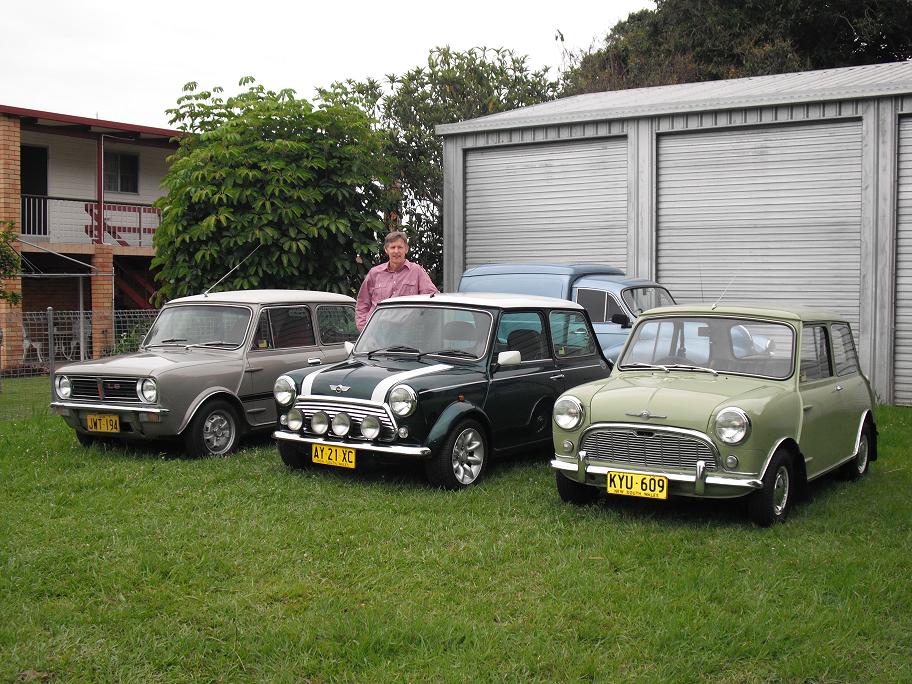 I suppose all Mini owners think their Mini is pretty special. I own three and I reckon they're all just a bit more special than most. Here's why:
My 1961-62 Morris 850 (manufactured in England in 1961, assembled and first registered in Australia in 1962) was my first car, purchased from my very generous uncle for $220 when I was just 15. It was eight years old and in near showroom condition, having just had its 24000 mile service. 46 years on and I am still driving it on a regular basis. It has now covered 175,000 miles and remains as good-looking as it did back then, having undergone restoration in 1981.
Quite apart from the fact that it is a very early, unmodified example of an Australian Mini, it also has some rather interesting history associated with it:
The BMC dealer (now retired) who drove it out of the factory and prepared it for original sale still maintains it mechanically to this day.

I obtained my Driver's Licence in it on 29th October 1971 – the day I turned 17.

Sadly, in 1973, due to personal circumstances, the Mini was sold. It was out of my hands for seven years, during which time it had at least four owners. In 1980, nine years to the day after obtaining my driver's licence in it, I bought it back as a wreck. It had been involved in a serious accident that wrote off a much larger vehicle, but it required only some cut-and-shut work on the off-side door frame, a new door and a replacement steering column to get it back on the road. That is the only major bodywork that has ever been done on it. It has never had any welding or panel replacement due to rust.

In 1981, having returned from the dead, fully restored, it won the local Sporting Car Club's economy run with a figure of over 70 miles to the gallon, a record which, as far as I know, has never been broken.

Nineteen years later, in 2000, it won another trophy - a show award for Best Post-War Restoration.

Virtually all major mechanical and body components (apart from the driver's door, as noted) are original – the engine has had three rebores. In all my years of ownership it has never once broken down. It remains in regular use and is still as reliable and delightful to drive as ever.
My second Mini is a 1978 1275 LS.
When Leyland Australia announced that it was ending production of Mini sedans, I already owned a rather nice 1977 998cc Mini S. However, I felt I really couldn't pass up the opportunity to own a "last of the line" model, so, on 29th September 1978, the S was traded on silver LS 1275 – one of the last 500 Australian Minis built. Production ceased the following month.
To date, the LS and I have spent 280,000 glorious trouble-free kilometres together. It is totally original and unmodified, including the upholstery, seats and carpets – all of which are still in near-perfect condition. It has never undergone any restoration or major panel work, although most of the paintwork has been resprayed at one time or another. Apart from engine rebores – last time it was sleeved and converted to run on unleaded petrol – and alternator overhauls, the only mechanical components of any significance that have been replaced are wheel bearings, knuckle joints, CV joints and clutch.
My third Mini was purchased in 2008. It is a 1998 Mk7 Rover Cooper Sports Pack. In the UK there would be nothing particularly special about this car, apart from the fact that it is in excellent condition. But, here in Australia, it is virtually unique due to government restrictions that prevent Minis of such recent manufacture from being imported into the country from the UK. In fact, the only way to obtain one, at the time of purchase, was to find a UK resident or visitor who has owned the car for more than a year and who was coming to live in Australia. Under such circumstances, a car is allowed into the country as a personal import. Fortunately, I was able to find such a person and purchase my first "new" car in 30 years. It has required some minor panel work and also a few mechanical alterations to bring it back to standard specification, but it is now in pristine original condition. With just 60,000 miles on the clock it should serve me just as faithfully as its older siblings for many years to come.
None of my Minis are show ponies. They have to earn their keep along with their elder statesman cousin, a 1958 Morris Minor 1000 van, that has clocked up 285,000 miles. I do not own a "regular" car. They're all daily drivers that have to face rain, hail and shine and a mile of dirt road each time they go out. People often marvel at their condition and ask what my secret is. If I have one, it's regular grease and oil changes (twice as often as recommended), careful driving, keeping the paintwork and under-body clean and dry, and applying copious quantities of wax and waxoyl. I have also always had any mechanical or bodywork problems attended to immediately, regardless of cost. Rather than proving expensive, I believe this has actually saved me money in the long term. My Minis will never be de-registered or put in storage. I believe Minis should be driven often and, overall, it is better for them if they are. Although, I must admit that preparing cars that are in regular use to compete against some of the immaculate mothballed examples that are now appearing at shows is becoming a little daunting!